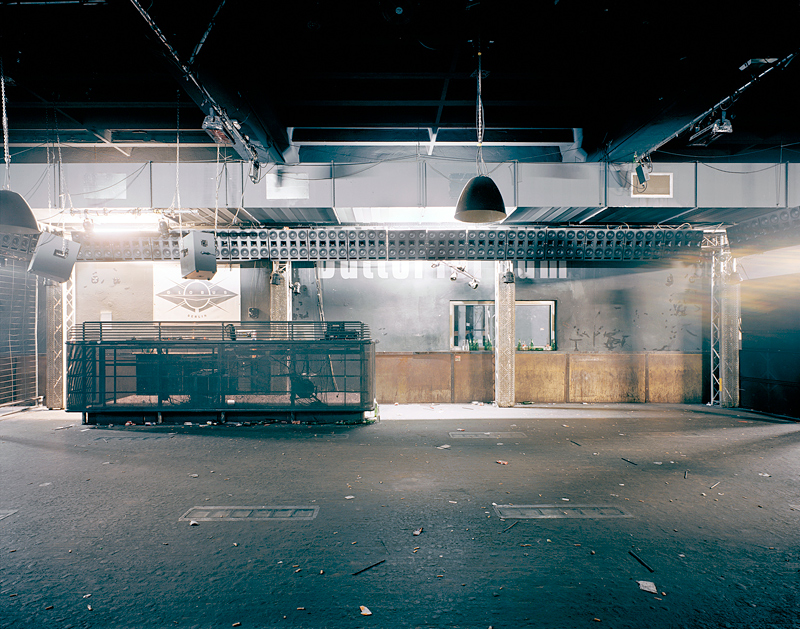 http://andregiesemann.com/photography/work/vom-bleiben/
"Vom Bleiben" in collaboration with Daniel Schulz, documents the moment in which the night at the techno club is over and the visitors have left the location. It is the moment in which the traces of the event become visible. The cleaning-lights illuminating the room evoke a sense of awakening in the visitors. When the clubs close at daytime, we enter their rooms and the battlefield that has been left behind. As soon as the last visitors have left and the cleaning-light has been turned on, we start to photographically record the present scene and atmosphere.
The moment before everything is put back in order exists only for a short time.
Due to the long exposure time technically required, we artificially extend this moment, the time of exposure matching real time.
We have set ourselves the task to document the often only temporary existence of techno clubs over a longer period of time.

Die Arbeit "Vom Bleiben.", zusammen mit Daniel Schulz, dokumentiert den Moment, in welchem die Nacht im Techno Club zu Ende gegangen ist und die Besucher diesen Ort verlassen haben.Es ist der Moment an dem die Spuren dieses Ereignisses sichtbar werden. Der Augenblick an welchem das Licht den Raum erleuchtet, stellt für den Besucher ein Gefühl des Erwachens dar. Während am Tage die Clubs schliessen, betreten wir diese Räume sowie das hinterlassene Schlachtfeld. Sobald die letzten Besucher gegangen sind und bevor die Reinigungskräfte die Spuren beseitigen, beginnen wir im Putzlicht die vorhandene Situation und Atmosphäre fotografisch festzuhalten. Durch die technische Vorgabe einer langen Belichtungszeit, verlängern wir diesen Moment künstlich. Dieser Zeitpunkt, bevor alles wieder in seinen Ursprungszustand gebracht wird, existiert nur für eine sehr kurze Zeit.
Die Belichtungszeit des entstandenen Fotos entspricht der Echt-Zeit des Momentes. Wir haben es uns zur Aufgabe gemacht, die oft temporäre Existenz von Techno Clubs über einen längeren Zeitraum zu archivieren.